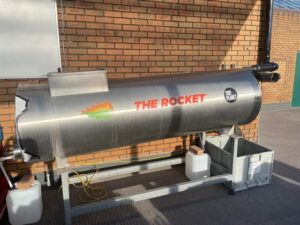 Working with local food growing Charity Grounded Community and the Bournemouth Coastal Business Improvement District we have installed a Rocket food waste composter at the Centre.
The composter will not only take all the food waste that is produced from retailers, restaurants and cafes within the Centre but we are also hoping to collect food waste from other cafes and restaurants within Boscombe Precinct.
This will not only produce great compost, but will eliminate the need for vehicles to pick up our food waste and deliver it to recycling facilities, saving vehicle emissions and CO2.